Concrete Resurfacing Denver
What to you do when it is time to replace your concrete driveway? You look for concrete contractors of course. Then comes the estimates, then a decision, etc. We don't need to go into detail about this, after all, you are probably in the midst of that process.
Here is the thing...
Many concrete contractors in Denver do not offer resurfacing as an option. Our team of experts is going to review the best course of action to take. A concrete overlay will often times take care of the issue and will not only create a "new looking" driveway, patio or walkway, but it will cost half as much as tearing out and replacing existing concrete.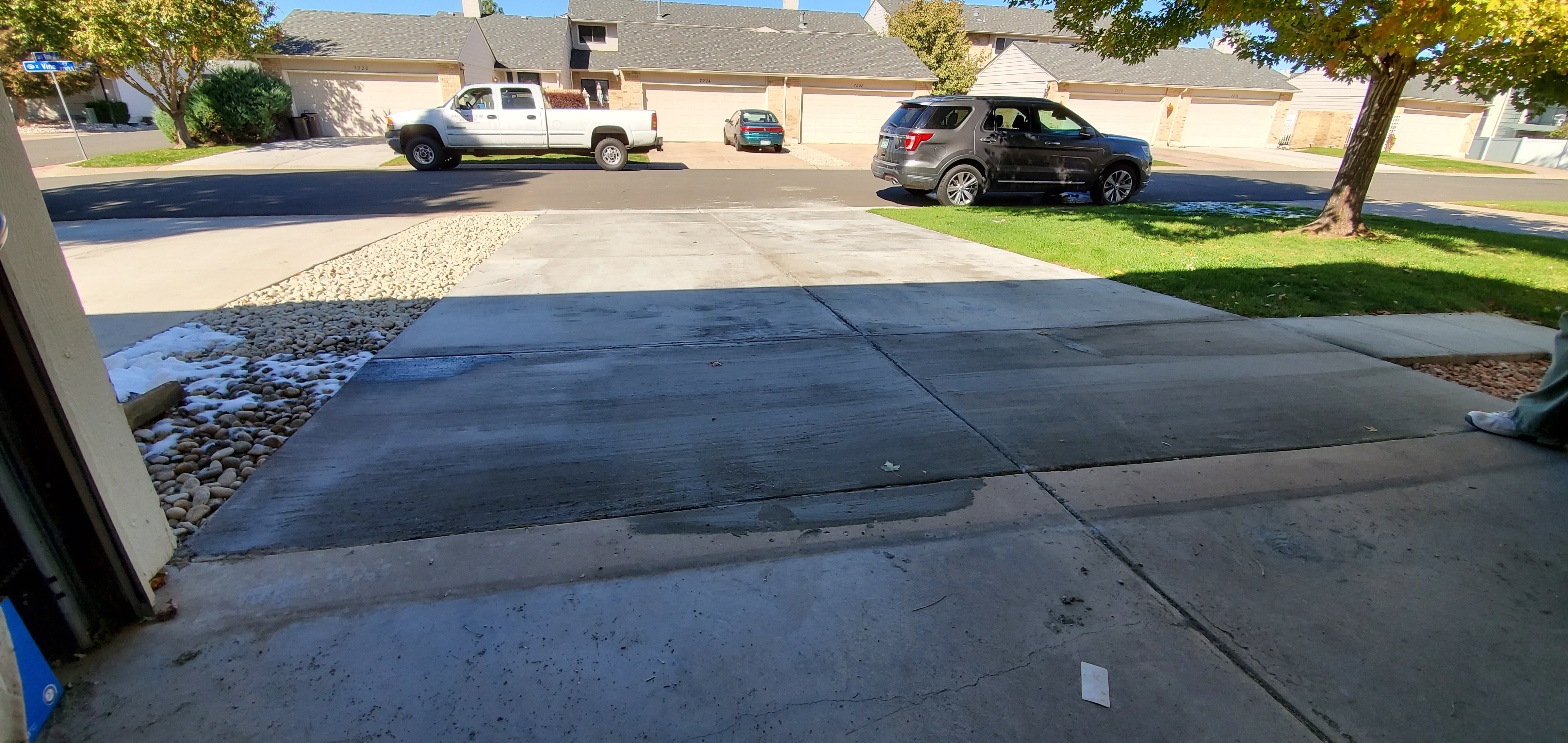 ABOVE, a customer's driveway before overlay services from Denver Concrete Inc. This customer had previously resurfaced the concrete with another contractor. Unfortunately the overlay was very poorly finished.You can read more about this project here...
A few words about concrete resurfacing...
It is important to note that resurfacing is just an overlay that is installed on top of the current existing concrete. So this is a "band-aid" type solution and is definitely not a "cure all" for fixing concrete. That being said, this is often times a decent solution and the property owner that selects this kind of service is typically working on a very tight budget.
Nothing will ever give the exact look and feel as a brand new concrete pour that has been finished correctly. Although we take great pride in our resurfacing projects, this is a service that offers a limited warranty as we cannot guarantee what will happen with the concrete underneath. SO... while resurfacing definitely does offer a viable and good looking solution to existing spalling and cracking driveways, it is not a permanent solution.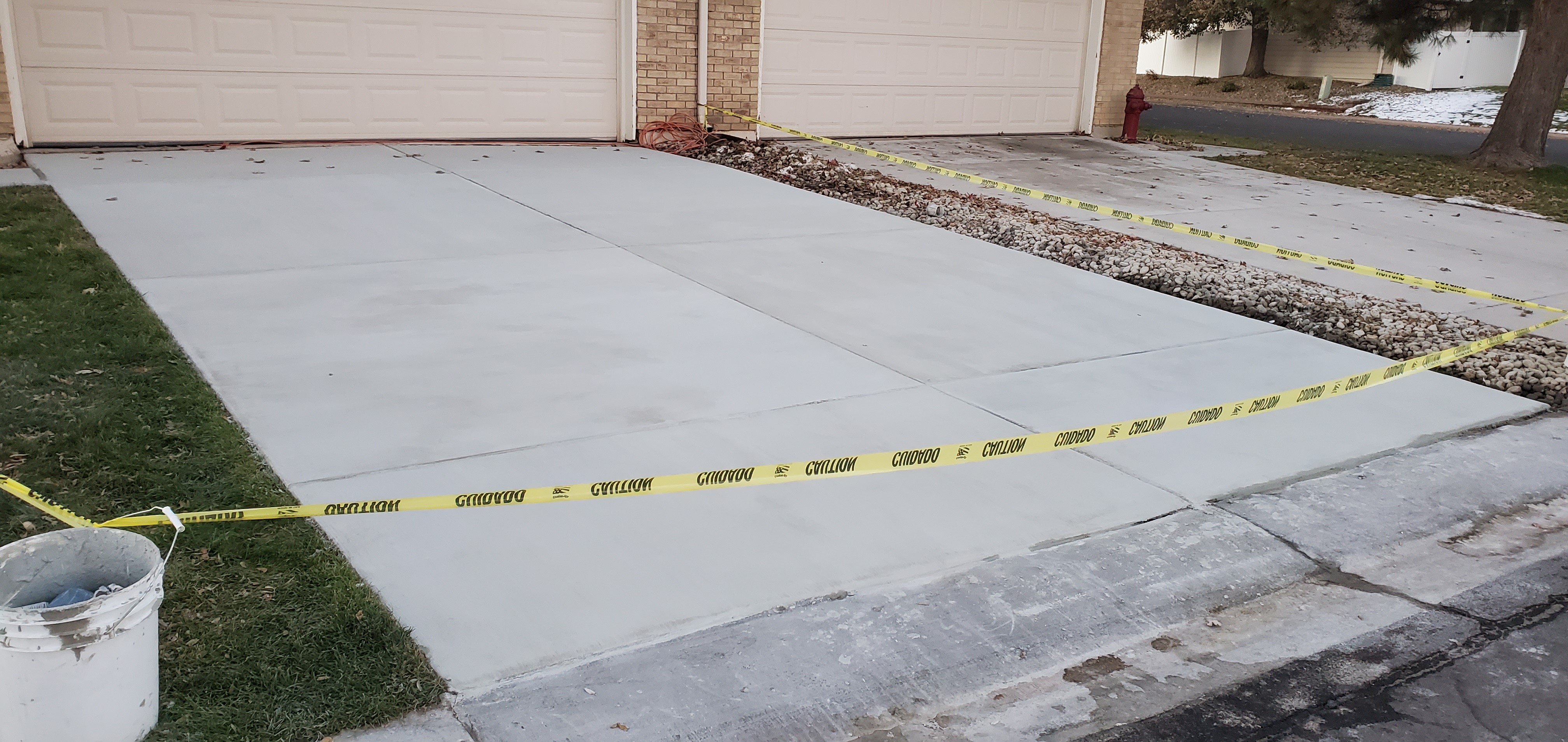 ABOVE, a the same driveway as seen in the image above after Denver Concrete Inc had resurfaced the driveway. The old overlay had to be stripped off before installing the new overlay. This was achieved by grinding off the old overlay. This same driveway is the header image "before and after".
What is Concrete Resurfacing?
Concrete resurfacing can be many things, we define it here in our concrete overlay process. In a nutshell, concrete resurfacing or a concrete overlay is installed over the old concrete. A concrete overlay is typically about a 1/16", this surface acts as the new surface of the concrete. It is typically finished with a "broom finish" unless it is an interior application which is then smooth "troweled" for a smooth finish. This process includes cleaning the current surface of the concrete and possibly grinding the surface to remove all of the "failing concrete".
After grinding and cleaning the surface, an epoxy us applied to the entire surface that is going to be resurfaced. This epoxy gives stronger adhesion with the overlay rather than just applying the overlay on it's own. As a matter of fact, the manufacturer of this product has completed adhesion testing to test the surface of the new overlay and has found in many cases that it is just as durable as the original surface of the overlay. The problem with many overlay or resurfacing products is the fact that they do not provide this extra step. If the overlay is not properly adhering to the concrete below it, it will separate and start to chip and even flake off over time.
Lastly, after preparing the surface for installation of the new overlay is the actual overlay itself. This concrete overlay will serve as the new surface of the concrete and "overlay" the old concrete. This overlay is typically applied with a trowel; however it can be brushed on as well. After the concrete has been troweled into place, it is finished with a "broom finish" and then sealed after it is set. For a more detailed explanation of this process, please visit our Concrete Resurfacing Process page.