Stamped Concrete Denver Co
So many different contractors to choose from when searching for "stamped concrete Denver co". When we search for this in google, we get 1,140,000 results.... That is a lot to go through! Fact is, it will take forever to even go through 30 of these websites. Additionally it is tough to determine just when the company completed the projects that are in the photos.
Denver Concrete Inc invests a great deal of time documenting stamped concrete projects for this very reason. Regardless of the project, our entire team goes to great lengths to document the project. The importance of this is that we strive to provide real pictures of real projects. Throughout all of our website, social media and other online media you can depend on the projects shown are from real life projects.
Stamped Concrete takes time and craftsmanship, especially depending on the stamp pattern and colors of the concrete. Although many Denver area concrete contractors advertise stamped concrete in their list of services, make certain to do your research.
Stamped Concrete Denver Co Concrete Contractors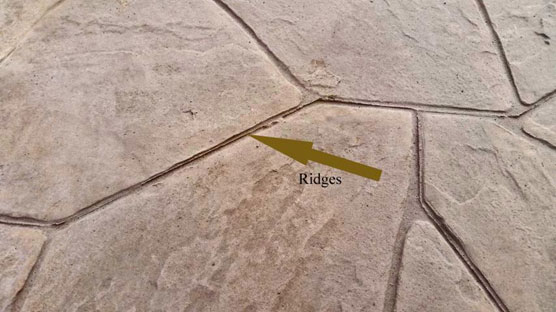 If you contacting a Denver area concrete contractor about a stamped concrete project, make sure to review their work online. Are you seeing continued updates to their social media projects and more importantly the projects they display in their website?
During the due diligence of finding the right stamped concrete contractor, make sure to ask for recent referrals. When customers ask us for this, we make sure to find the most recent stamped concrete project that we can. In doing this we are providing relevant and recent work for our potential customer to judge.
Stamped Concrete Takes Craftsmanship
It is the finish of the stamped concrete that really takes time and attention to details. Denver Concrete Inc uses integral colors for colored stamped concrete projects. In addition to a surface release color, an integral color is used. This is important when coloring stamped concrete because as the surface erodes the concrete will continue to maintain its color in higher traffic areas.
Stamping the concrete takes the right timing. You do not want to start stamping the concrete too soon. The pattern will not maintain the definition of the stamp if it is applied too quickly. On the other hand you definitely do not want to apply the stamp when the concrete is set. If you stamp the pattern too late, it will be weak and undefined.
Stamped concrete of any kind takes time and genuine craftsmanship to say the least. From the beginning of the project, through the design and preparation for the project. Denver Concrete has the experience that you need for a successful completion. We know just how important your stamped concrete project is to you. Afterall, if you just wanted regular concrete you would have not inquired about something different. When you started researching stamped concrete, you were looking to have a custom, artistic concrete patio, driveway, stoop or walkway. You wany "outstanding", we do too.
We Know You Want Beautiful Concrete
When you are considering stamped concrete, you want what you see in the pictures online. We know. You want the two tone colored patio with a different stamp patterned border. You want it all! We do too. That is exactly why your concrete expert will take the time to review design with you. It is imperative that every detail is considered when you are working with decorative and stamped concrete.
From every contour to the color selection, your concrete expert at Denver Concrete Inc will work with you step by step. We want the same thing you do, we want to achieve the exact look and feel that you were looking to.